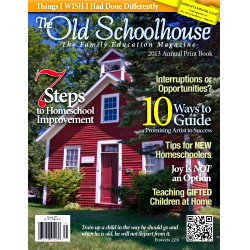 My son loves the I Survived books already, and this study guide is well written and well planned to work side by side with I Survived the Destruction of Pompeii, AD 79. I love the additional activities, and I know he is actively engaged with what he is reading because he gets so excited to do the corresponding activities. This guide really brings the contents of the book to life in a more meaningful manner. Who knew wearing a toga while making a lava lamp could be so much fun? Overall, we have really enjoyed using Historical Stories of Survival Unit 1 Surviving Pompeii AD 79. There are currently 7 units available, that being with Pompeii and ending with the Shark Attacks of 1916. We have all of these books, and I can't wait to try out more of the guides! I highly recommend it to others! Read the entire review here

In our family history and literature are the core of our studies. It is always exciting when the two overlap and the girls get to see interdisciplinary learning at its best! This is the case with the Historical Stories of Survival series of unit studies written by Justine Gamble.

We already owned several of these engaging historical fiction books, but they are readily available at libraries across the nation. They are enjoyable for a wide variety of ages. While they are recommended for grades 3-5, my 2nd grader was fully engaged and my 7th grader finds them enjoyable. If you think your kids are not quite ready for the reading level they also make very engaging read aloud books which would work very well for these units for family learning.

Thanks to these fabulous unit studies, the book is only the beginning! The author has created a fully integrated unit study with varied learning style activities which will appeal to a large age range.

I love that the literature is fully covered. Students identify various literary elements and write about different aspects within the novel. This is compiled into a lapbook. Lapbooks aren't a regular part of our day-to-day learning so the girls really enjoy it when they get the chance to create one. Guided literature questions will assure your students are retaining what they read and vocabulary/spelling lists will help them build their skills with word usage.

The girls' favorite part far and away were the games included!

If you are looking for a new way to spice up your homeschool studies or even just as a new way to engage with literature, I highly recommend Historical Stories of Survival from Justine Gamble. Your kids will love learning as they dive into any one of these studies!

See the full review

here

.

I'll go into more detail on one particular study, the Great Chicago Fire, to give you a clearer idea of what these studies look like. The Scholastic book, I Survived The Great Chicago Fire, 1871, launches the study. While students learn about that event, the study also addresses forest fires, weather and fires, fire safety, survival science, and tree and plant sketching and identification. Geography expands beyond Chicago to the state of Illinois as well as Minnesota, Massachusetts, Wisconsin, and the Dakota Territory. Some geography activities contrast maps of both past and present. Field trips are recommended to a local fire station, a forestry center, the Fire Museum of Greater Chicago, and a train ride.
Language arts get quite a bit of attention. In this study language arts activities encompass reading comprehension, vocabulary, spelling, letter writing, writing a comparison/contrast piece, writing a research essay, and writing a short biographical essay.
There are plenty of hands-on activities. Creation of a lapbook (from templates included in the guide) is a centerpiece activity that students work on throughout the study. Students will also draw maps, a buffalo, a horse and buggy, and a prairie scene. There are craft activities such as creating a diorama of the Great Chicago Fire and creating a model of the Chicago skyline.
Read the full review here.